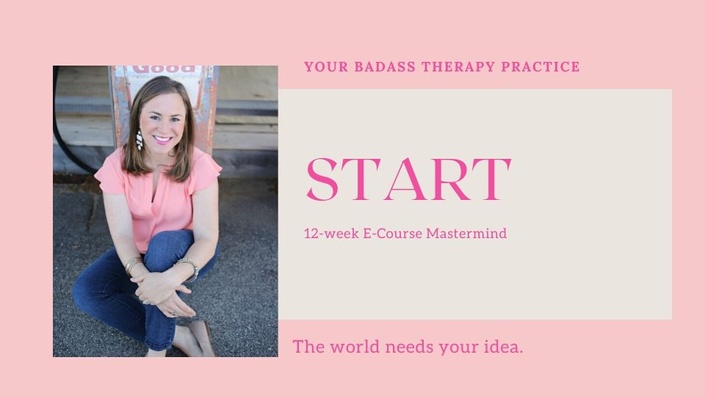 START
E-Course Mastermind for Therapists
Sorry, enrollment for this mastermind is now closed.
Welcome to START - a 12-week mastermind group of 10 hand-selected therapists who are ready to kick ass online.
Whether it's an e-course to increase brand recognition for your existing practice or to grow a completely new business venture online, I've got your back.
Over the course of 3 months, I'm going to teach you everything I know about how to launch, grow, and scale your online business to include e-courses, coaching programs, and anything else to help you share your knowledge with the world. This will allow you to increase your impact while also diversifying your income streams beyond 1 on 1 work.

Because the world needs your idea.
What's included?
Weekly 1hr Group Coaching Calls
Each week I'll facilitate a group coaching call via Zoom to teach you how to launch and grow your business in a methodical, deliberate way. As we move along, I'll also use that time to answer the most common questions the group has, brainstorm ideas, and use our collective "hive mind" to come up with creative solutions to challenges that come up. These calls will be recorded and uploaded to Teachable so that you can always go back and replay them.
Mondays at 12pm EST/9am PST
Monthly 1:1 Coaching Calls with Laura
In order to get more individualized feedback and direction, I'll be meeting with you each month of the mastermind. During these 1:1 calls, we'll be able to really dive into your idea, your audience, and creating a content marketing strategy that makes the most sense for you. These calls will be recorded and emailed to you so that you always have access to them.
Video Office Hours with Laura EVERY Thursday
If you're looking for LIVE feedback or help as you work on your "rabbit hole research," idea validation, audience-building, and of course all of the back-end tech that's involved in creating a successful online business, you'll have live access to me on Zoom every single Thursday from 2-3pm EST/11am-12noon PST during the mastermind. I'll be able to give you real-time feedback on anything you're working on and answer questions that have come up for you in real time.
Exclusive Facebook group JUST for START members
If you've gone through my signature program, "Your Badass Therapy Practice," then you already know that YBTP's private community is the best Facebook group for therapists. Now picture it being an intimate group of fellow badass alumni who are all whole-assing their online businesses. I'll be in there every single day, answering questions and sharing resources as we go. This is where you'll come for support, answers, and to share anything you've found along the way that you think would help the group.
Access to all group call recordings and resources in Teachable
In order to keep things organized and tidy, I'll be organizing all of our group coaching calls, along with any other relevant resources, here on Teachable so that you have one centralized location to get what you need. Any other supplemental trainings, interviews, or worksheets/handouts I create throughout the mastermind will be uploaded to Teachable for easy access.
Frequently Asked Questions
When does the mastermind start and finish?
The START E-Course Mastermind will begin the week of June 15th and end the week of September 7th. We'll take off the week of June 29th-July 3rd for a total of 12 weeks of building your online business and offerings.
How long do I have access to the materials from the mastermind?
You'll have lifetime access to any group call recordings, worksheets, video tutorials, video interviews, or any other supplemental materials that I create to help you through the mastermind.
How is the mastermind structured?
We will meet as a group for 1 hour every single week. You will also receive 1 hour of 1:1 coaching each month of the mastermind. I wil have video office hours every single Thursday if you would like some support and help in real time. Throughout the week, we'll engage in our private Facebook group, and I'll upload any recordings, worksheets, etc. in its respective week's module on Teachable. Because we're organized AF here :)
How does Teachable factor in?
Teachable will serve as the headquarters for START, where I'll store video recordings from our group calls, as well as any supplemental materials (handouts, worksheets, links to awesome resources).
By the end of this 12-week mastermind, you'll feel confident in your ability to launch and grow a successful online business selling informational products like e-courses and coaching packages.
You'll narrow down a business idea that has the best chance of success and feel confident that your business idea will sell.
You'll know exactly where to go to find your ideal student online, as well as what to look for in these "fishing holes" so that the products you create solve their most burning problems.
You'll gain confidence in forming authentic, meaningful relationships with other players in your online space, and through authentic self promotion strategies, you'll increase brand awareness and create a traffic engine for your business.
You'll learn how to build an email list, create an automated sales funnel, and nurture your audience so that you can build long-term trust with potential students.
You'll master many of the mental blocks that come up when building an online business, and you'll learn how to overcome future psychological barriers to success.
You'll have an online business that you feel so proud of that you'll be excited to share your idea with the world.
This course is closed for enrollment.