Badass Accountability in Action
An 8-week Program to help you Ditch the Overwhelm, Avoid Burnout, and Kick Bitchy Brenda to the Curb
Enroll in Course
YBTP was quite a whirlwind, wasn't it?
When you first enrolled, you were both excited and terrified. On one hand, you were hopeful that you'd learn everything you needed to know to kick ass in private practice. On the other hand, you didn't know what to expect, and a part of you was unsure about whether or not you would be able to keep up.
Every module challenged you to think in new and different ways.
From niching down and learning more about your ideal client,
creating your ideal schedule,
setting up systems so that your practice runs like a well-oiled machine,
understanding the importance of authentic personal branding,
over-delivering and adding value (and charging accordingly),
learning creative marketing strategies that go beyond posting in 10 different social media platforms,
to all the things you need to build a badass website...
It was great. But it was a LOT to take in in just 8 short weeks.
I began to notice a pattern.
I saw that some students who were really engaged in the beginning often dropped off by Week 4 and stopped participating in the Facebook community.
When I met with some of them for their 1:1's, I learned that overwhelm and self-doubt had started to creep in, leading them to avoid the modules and the community.
These students wondered if they were the only ones feeling overwhelmed or insecure. They wanted to focus on the material, but it just felt like there was so much to do and they didn't know where to start.
They wanted to connect with other students in a meaningful way that went beyond the threads in the Facebook group. They wanted to see real faces of real students.
They also wanted accountability. Someone to check in with them regularly who could offer support and encouragement. Like a mentor.
All of this sounded amazing, but there was just one problem.

How could I address all of the mindset blocks AND offer accountability AND connection when students were already feeling tapped out?
---
(Here's where the story gets really good...)

---
During the most recent cohort, I was approached by one of my faithful YBTP alumni who's crushing it in her private practice -- Anne Marie Schoenherr. You may recognize her Fb avatar (since that's how most of us know each other):

Turns out, Anne Marie was noticing the same patterns in the Facebook group. Students were experiencing self-doubt, imposter syndrome, perfectionism, procrastination/avoidance, and lots of fear.
She wanted to help and offer accountability to students going through YBTP. She wanted to help them overcome the very same mindset issues that she faced when she went through the program herself. She wanted them to experience the freedom that came from working through their internal blocks.

That's when the lightbulb went off in my head and shattered all over the fucking place.

I decided to bring Anne Marie on to join the YBTP team as a Mindset Mentor.
Together, we set out to create a program to help ANY YBTP alumni work through -- and overcome -- all of the mindset shit that can come up during the course while also offering the very things that students have told us they want...
focus,
support,
guidance,
connection,
and accountability.
All wrapped up into one program.
Introducing Badass Accountability in Action
Led by YBTP's official Mindset Mentor, Anne Marie Schoenherr
Your Instructor
Hey there, I'm Anne Marie Schoenherr (sounds like "Shay-ner," in case you were wondering). I'm a Licensed Marriage and Family Therapist and Mindset Mentor for Your Badass Therapy Practice. As an alumnus of the course, I know what it feels like to crush overwhelm and quiet perfectionism to accomplish goals. When you're feeling stuck, I offer accountability and supportive challenge so that you can take imperfect action to create the badass practice that you've only dreamed you could have.
Badass Accountability in Action is an intimate, 8-week program that's designed to help you identify and overcome your fear, avoidance, perfectionism, self-doubt, and overwhelm.
With a capped enrollment of only 20 YBTP alumni, you'll receive focused attention, accountability, support, and guidance from a YBTP alumni who is committed to your growth and success.
The program will consist of organized weekly threads in a private Facebook community (similar to the YBTP course Facebook group), two weekly Zoom calls hosted by Anne Marie, and opportunities to connect with other members through intentional weekly discussions.
Anne Marie will be your guide as you explore the mindset barriers and limiting beliefs that came up for you during the course, and as a small group, you all will work through the modules using a completely different lens.

When you join the program, you'll receive:
Eight weeks of accountability and support

After completing such an intense course with tons of information and action steps, the last thing you need is more content and overwhelm. What you need now is a plan and a roadmap. You need to figure out why you've procrastinated on some (or most) of the modules, and what's holding you back. You need support, gentle guidance, and a mentor who's going to help you stay accountable to yourself. That's what Badass Accountability in Action is all about.
Small group of motivated YBTP alumni

Once you enroll, you'll receive instant access to a private pop-up Facebook group just for this program. Anne Marie will facilitate organized group discussions and threads (similar to what you experienced in the YBTP course Facebook group), and she'll serve as your guide throughout the program to help you get unstuck. Enrollment will be limited to 20 in order to keep this group feeling intimate and high quality.
Live calls on Zoom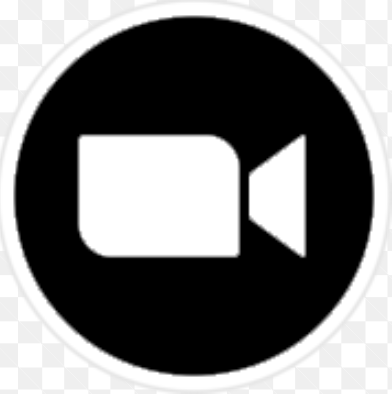 Anne Marie will facilitate several live group calls during the week, each with a different focus. On Tuesdays, she will offer two separate 30-minute "Temperature Check" calls (you pick the time that works best for your schedule), where you'll have the opportunity to share what you're feeling as you review that week's related YBTP module. On Thursdays, Anne Marie will bring the whole group together to process any common themes that came up during the week related to mindset and also to explore where you may still be feeling stuck. This is deep work that goes beyond just moving through the modules, and you'll end each week with more clarity and direction.
Time to Reflect and Connect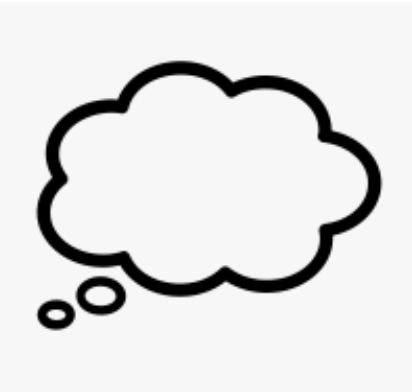 YBTP is jam-packed with new information, and at times it felt like you were drinking from a firehose. In this accountability group, you'll spend more time looking inward, exploring any mental barriers that have come up for you. In order to help facilitate that exploration, this program will assign two separate "Reflect and Connect" weeks. There will not be live calls during these two weeks. Instead, there will be opportunities for you to connect with the other groups members in the Facebook group and carve out time to connect what you've been learning.
Here's an overview of what each week will look like: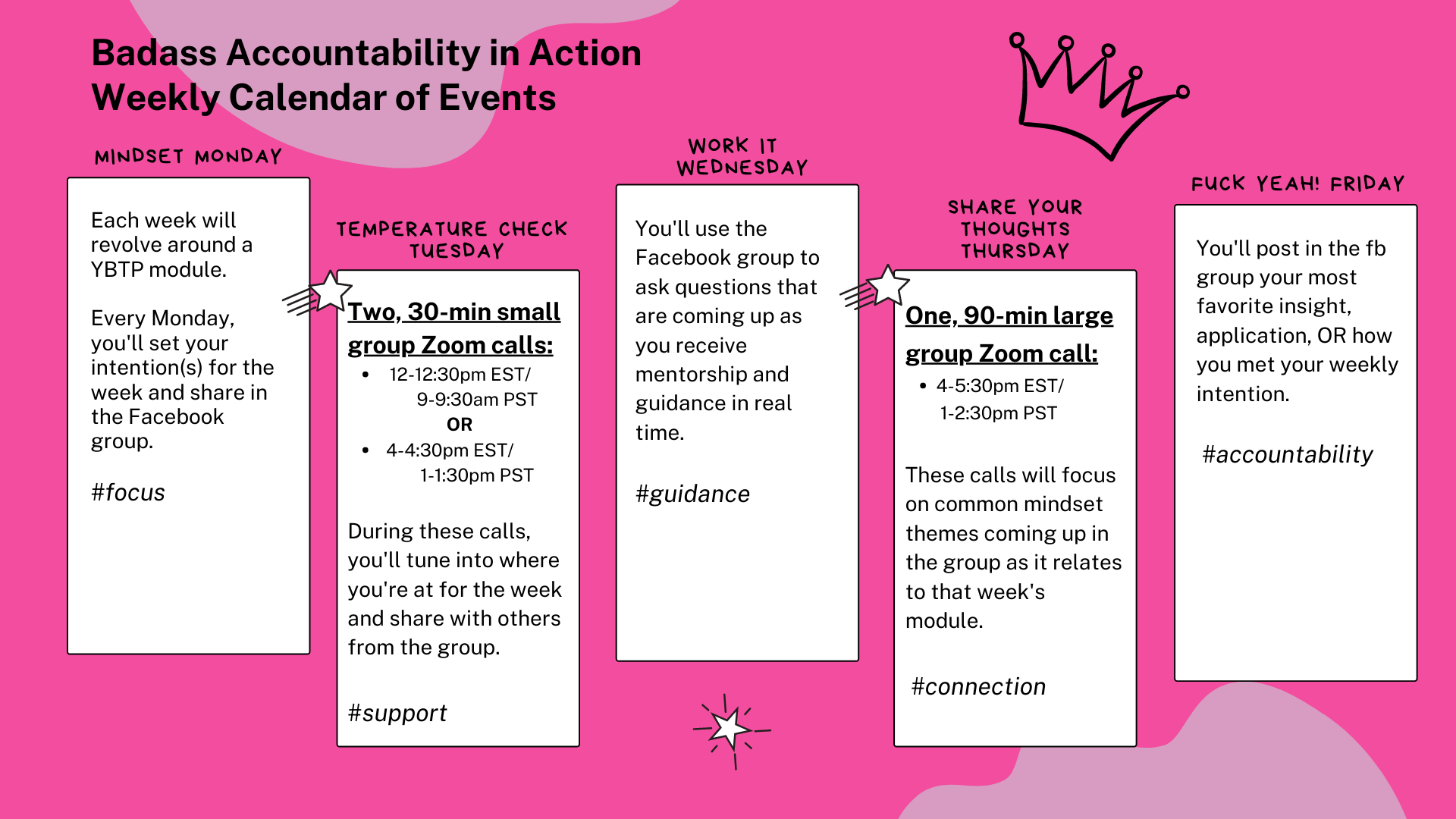 Each week's topic will correspond to a YBTP module, but instead of focusing on practical application, we will be looking inward and exploring the mental roadblocks that we face while diving into the material. Here is the breakdown of each week:
Week 1 (Sept 21-25): Review of Module 1 (Your Roadmap)
Week 2 (Sept 28-Oct 2): Review of Module 2 (Your Systems)
Week 3 (Oct 5-9): Reflect and Connect week (no live group calls)
Week 4 (Oct 12-16): Review of Module 3 (Your Loyal Clients)
Week 5 (Oct 19-23): Review of Module 4 (Your Value & Fees)
Week 6 (Oct 26-30): Reflect and Connect Week (no live group calls)
Week 7 (Nov 2-6): Review of Modules 5 and 6 (Your Marketing and Your Website)
Week 8 (Nov 9-13): Review of Module 7 (Your Progress)
Frequently Asked Questions
When does the group start and finish?
Accountability in Action is an 8-week group that will run from Monday, September 21st - Friday, November 13th, 2020. Live, small group interaction will be held throughout the week, along with an intimate Facebook group for continued discussions throughout the week. During the two "Reflect and Connect" weeks, there will be opportunities to connect in the Facebook group but there will not be any live Zoom calls during those two weeks.
How long do I have access to the course?
You will have access to any materials/resources found on Teachable until January 1st, 2021. The pop-up Facebook group will run through November 13th, 2020, at which time the group will cease and all group members can return to the larger YBTP Facebook communities.
What if I am unhappy with the program?
I stand by every single program I offer, whether it's a $197 mini course or a $2K+ flagship program. If for whatever reason you don't feel like Badass Accountability in Action provides you with the mindset tools, support, and accountability that you were hoping for, you can get a full refund up to 30 days from the start of the program.
If I can't attend a group call, will they be recorded and made available?
Anne Marie and I have talked about this at length, and here's our stance: The group is intended to provide you with support, accountability, and guidance in real time. You'll be exploring and processing your own limiting beliefs and mental barriers while connecting to the other group members in a real, meaningful way. In our opinion, the best way to do all of this is by experiencing it live and being fully present in the moment. For this reason, the calls will not be recorded. HOWEVER, we also don't want you to feel overwhelmed. If there is a week when you can't attend a group call, that is totally fine. This group is about you getting what you need, listening to your body, and resting/pausing. It's not about going 100mph to the finish line; it's about getting clarity and creating space. You are not required to attend both calls each week. They are there as a resource to help you continue your growth and master your mindset.
This program is for you if...
You experienced overwhelm during YBTP and found yourself avoiding the modules.

Bitchy Brenda has taken up residence in your head, pointing out all of the ways you might fail.

Your perfectionism is keeping you feeling paralyzed, and you don't know what to focus on next.

You feel isolated as you try to build and grow your private practice.

You want accountability, support, and connection in a small-group setting.

You want dedicated time to look inward and explore your own mental roadblocks with a small group of like-minded therapists.
This program is NOT for you if:
You just want to go back through the modules and receive advice on only the practical application of the material (e.g. how do I set up consultations in SimplePractice? Which marketing strategy should I focus on next? Can someone review my website and give me feedback?).

You have no interest in doing deeper work as it relates to mindset and limiting beliefs.

You aren't able to attend most of the group calls (100% attendance is not required, but if you are consistently unable to attend the weekly group calls, you won't experience the full benefits of the program).
---
Badass Accountability in Action is the only program of its kind.
There are other programs that exist to help entrepreneurs identify and work through mental barriers, but no other program focuses exclusively on therapists while simultaneously following a structured course like YBTP. Additionally, this program is limited to 20 students, which greatly increases the sense of camaraderie and connection group members will experience. And for only about $10/day (that's less than the cost of lunch), you'll receive hours of direct support from Anne Marie, live Zoom calls each week, plus daily prompts and accountability from the Facebook group.
If you're ready to ditch the overwhelm, avoid burnout, and kick Bitchy Brenda to the curb, this 8-week program is for you. Sign up today and join a small group of YBTP alumni who are ready to see you kick ass.